Technical Systems and Hikvision Complete Integration of the New Hik-Central Management System
Led by Technical Systems Operations Manager and Owner Bill Riley, Technical Systems installed, tested and launched the software as part of their ongoing security integration for industrial gas supplier, Matheson Gas.
Riley's leadership, guidance and field experience helped Hikvision build a more comprehensive platform, assisting with system integration, Access Control, Video Intercom and several Apple and Android Applications for the Matheson.
"Matheson Gas was looking for a comprehensive security solution. We initially focused on installing intercoms for each entry gate at their plants, but also were adding CCTV(closed circuit television video) camera systems to provide them with the ability to remotely view access points at each location from Matheson's central monitoring hub, known as the ROC (Remote Operations Center)."
"The addition of Access Control, the Video Intercom and the mobile apps were already projects Hikvision was working on, but Technical Systems provided the necessary customer platform in the United States to integrate access control into their camera's Virtual Management System. There's a host of other ideas and applications that we're helping them integrate and become a reality," Riley adds.
Already a long-time Hikvision dealer and partner, Riley approached Hikvision as part of the large-scale, Access Control project for Matheson Gas at their United States retail locations and industrial plants. The access control installation project took over a year, and included installation at over 300 total locations including 84 industrial plants for the New Jersey/Pennsylvania-based Matheson.
The project is now in a second phase, which is utilizing Hikvision's Virtual Management Software to network the video intercoms and remotely manage each plant location.
The functionality for Matheson at "the ROC" (Matheson's Remote Operation Center) is unique, with central security monitoring for all of the air separation plants, including the ability to monitor the gas levels within the truck tanks entering the plant and monitor truck activity, including arrivals and departures from each of the 84 plant locations across the United States.
As each facility across the country closes down overnight, the camera feed is automatically redirected to the Remote Operation Center (ROC) for overnight monitoring, video, and access control.
To learn more about Technical Systems' partnership with Matheson Gas and Hikvision, call 888-772-9094 or email sales@technicalsystemsaz.com
For more information or to request a quote, call 888-772-9094 or email sales@techsystemsaz.com.
ABOUT MATHESON GAS
Founded in 1927, Matheson Gas is currently one of the five largest industrial compressed gas providers in the world. MATHESON is one of only a few providers that is able to offer the full complement of onsite production, bulk, small/micro bulk, cylinders, electronics materials, specialty gases, medical gases, gas handling equipment, and welding supplies/equipment – all from the same source.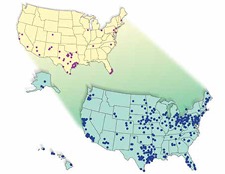 Including gas plants, research facilities, supply depots, and retail stores, MATHESON has over 300 sites in the United States.
Learn More at mathesongas.com
ABOUT HIKVISION AND THE HIKCENTRAL CENTRAL MANAGEMENT SOFTWARE ™
HikCentral's Central Management Software ™ is used for daily monitoring in real-time. Powerful and easy-to-use, it includes functionalities such as live view video and playback, and enables you to tag relevant video clips so that they can be searched, stored, and viewed by trusted parties. Also, with its flexible alarm management interface, operators can easily identify and handle alarm events.
Hikvision's Internet-based accessible management of the system allows you to add devices and configure camera recording schedules, user rights, and event and alarm rules. You can also access live camera views and playback features.
The Hikvision platform provides mobile surveillance anywhere, anytime – complete with the HikCentral Mobile app available from the iOS App Store and Google Play for access anytime, anywhere, 24/7/365.
New Hikvision iVMS-5200 professional video management software …. implement an on-site, virtual, or cloud-based VMS solutions and storage, with a centralized video management platform to unify the system.
Learn More at hikvision.com